Fackelmann Brands: One of 50 climate leader companies worldwide
The 50 Climate Leaders initiative has set itself the task of highlighting companies that are committed to sustainable business and climate protection. Fackelmann Brands is part of the initiative and is helping to gradually get closer to the 17 UN climate goals for sustainable development.
Come with us on a journey into a greener future.
OUR STRATEGY: THREE PILLARS FOR SUSTAINABLE BUSINESS
Sustainable action is a matter of course for us. Many of our around 10,000 Fackelmann products are already designed for long-term use. We have been living the principle of sustainability since our foundation around 100 years ago: Heinrich Fackelmann laid the foundation for this as early as 1919 with the first wooden kitchen gadgets. Our goal: We want to convert a large part of our products and packaging to sustainable materials by 2025. But not only that. So that we always stay focused on this path, we build on three points, which form the basis for all our activities:
Future-oriented alternatives for packaging
Intelligent manufacturing management
Efficient production processes
Deeply rooted in Germany and at home all over the world: This applies equally to our products and their manufacture. At our headquarters in Hersbruck and Aichach in Bavaria, we set the highest standards in our production and on the most closed energy and recyclable material cycles: The wood waste from furniture production in Hersbruck is burned in a biomass boiler and used to heat the entire site. The waste heat from plastics production is used in a heat recovery system to heat the service water. We also use photovoltaic systems in Aichach and Hersbruck to generate solar power.
At our production sites around the world, we attach great importance to using the appropriate measures. The Hersbruck location has been climate-neutral since 2020, with further locations to follow. We produce 6,387 tons of CO2 a year, which we offset accordingly. This also includes transport routes from products to the customer and back to us and, for example, business trips.
Sustainable materials for products and packaging
Long-term use
Easy recycling
As a manufacturer, we want our products to be as durable, resource- and energy-efficient as possible, as well as repair-friendly and recyclable. We always want to manufacture products for a long service life and pursue the ideal of circular economy. That is why we rely on materials without complex composition and easy to use. In order to reduce the consumption of fossil raw materials, we are initially focusing on converting many materials to materials that are completely or at least partially made from renewable or recycled raw materials. Our goal is to offer the most competent range of sustainable products in Europe. We started our development over 10 years ago with the so-called "greens", kitchen gadgets made of plastic,
Today we use PE made from renewable raw materials and FSC ™ certified wood for our "Ecolution" series. We are currently working on completely avoiding the use of feed plants for sustainable materials. We are also taking the first steps with baking molds: With our "Green Vision" baking molds, the wax from the Brazilian carnauba palm is being used for coatings for the first time.
Certified manufacturing standards (BSCI, Sedex)
Certified social and labor standards
ESocial and social engagement
Corporate Health Management
Of course for us: As a family company, the company family is particularly important. Compliance with social standards and optimal working conditions for employees as well as creating a positive working atmosphere are the focus in Germany and at our more than 40 company locations around the world. These standards are certified and approved both by detailed internal audit systems and by higher-level regulations such as the BSCI. At our headquarters in Hersbruck and Aichach, in particular, we benefit from above-average years of service - our employees have been with the company for around 14 years on average - but attach just as much importance to a balanced mix. 30% of our employees at the headquarters in Hersbruck are under 30 years of age, the average age is 42 years. In individual employee appraisals and regular feedback rounds, we jointly evaluate possible areas of development in order to continuously develop. We also support the "By bike to work" initiative, subsidize the use of public transport and promote company health management with various sports and preventive measures such as yoga, Nordic walking and running courses, lectures on topics such as healthy sleep or non-smoking, health days or Pedometer Actions.
AT A GLANCE - OUR STANDARDS AND CERTIFICATIONS
Strong brands need strong partners. Especially when it comes to sustainability and climate protection, we rely on proven standards. Our certifications in a nutshell.
If a textile article has been awarded the STANDARD 100 label, all components of the article have been tested for harmful substances and are therefore harmless.
International Sustainability and Carbon Certification (ISCC), based in Cologne, is a certification system that distinguishes agricultural raw materials in Germany, the EU and third countries that comply with the sustainability regulations for bioenergy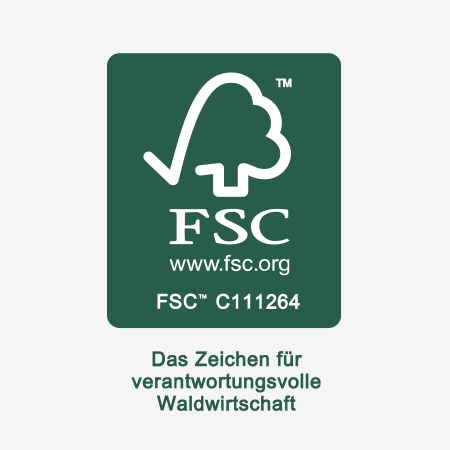 FSC ™ stands for "Forest Stewardship Council ™". It is an international certification system for more sustainable forest management. The wood and paper used in kitchen utensils and packaging with the FSC ™ seal come from forests that are managed more responsibly.
The 50 Sustainability and Climate Pioneers project is the international economy's response to the climate challenges of our time: it shows how climate change can be combated actively and efficiently.
Companies inevitably cause CO2 emissions, even if sustainable management is already taken into account in many areas. As part of the climate-neutral company, all emissions are recorded and continuously assessed. All other unavoidable emissions can be offset through climate protection projects.
The MAXIMIZING GREEN standard in connection with the ILAG coating fulfills central requirements for environmental and health protection. Only raw materials that reduce the ecological footprint are used for this product range - and not only in the coating itself, but also in the entire value chain.
Our Green Vision baking molds are climate neutral. With ClimatePartner, we have calculated the carbon footprint of our Green Vision baking molds and offset it through climate protection projects. This means that all Green Vision baking molds produced by us are climate-neutral and labeled with the "climate-neutral" label.
Our guarantee for ethically and ecologically sound products. All of our products are of course produced under fair conditions, we are constantly working on using the materials as ecologically as possible and guarantee the highest product safety, which we ensure through our standards and regular audits.
SUSTAINABLE MATERIALS FOR A GREENER FUTURE
Kitchen gadgets and baking pans have to be robust, versatile and reliable. That is why we are constantly on the lookout for the most suitable materials for the individual areas of application and are constantly developing them further. We are currently using different materials to meet all requirements.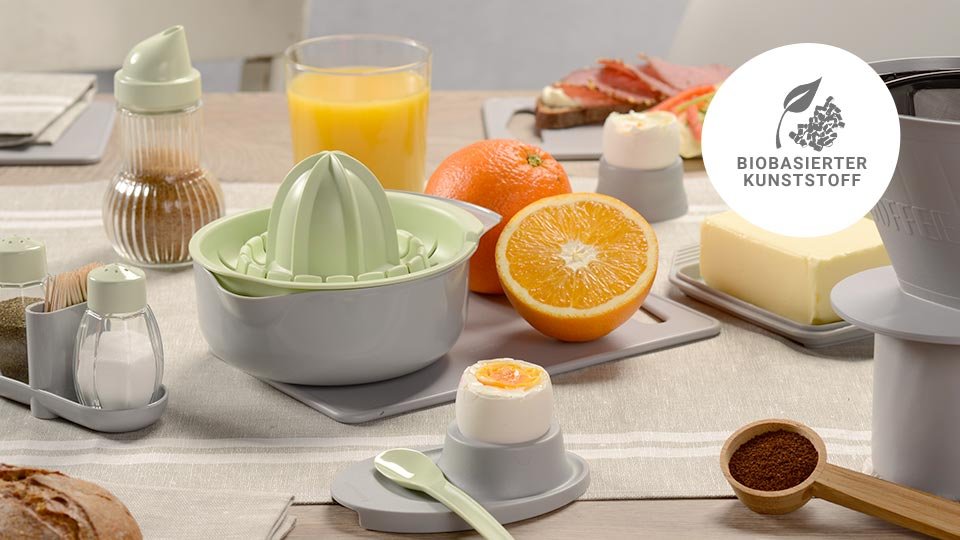 Green PE
Green PE is a natural plastic that is obtained from sugar cane and is used in kitchen utensils. During the production of the raw material, oxygen is also produced and the bagasse, i.e. the waste, can be converted into energy, e.g. to operate the sugar cane mills. In its pure form, Green PE is dishwasher-safe, but not heat-resistant. It is therefore ideal for products such as butter dishes, spoons, cutting boards, egg cups or lemon squeezers.
TO THE RANGE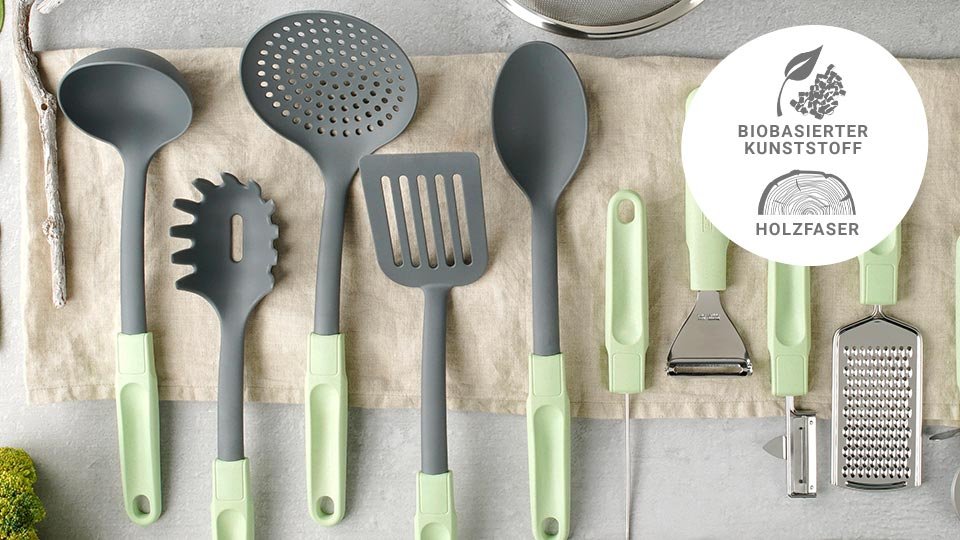 Ecolution
The products of the Ecolution series made from renewable PE and FSC ™ certified wood stand for natural materials such as wood fibers and sugar cane, which are combined in a new material that is particularly resistant - all products can be safely used in the usual areas of application and are easy to use in the dishwasher. There is a combination of wood fibers and bioplastics in the handle of Ecolution products. This consists of almost 100% renewable raw materials. The functional part is 30% bio-based.
TO THE RANGE
FSC wood-paper
FSC ™ is the abbreviation for Forest Stewardship Council ™, ie the promotion of environmentally friendly, socially beneficial and economically viable management of forests. From wooden spoons to cutting boards, around 140 wooden items are manufactured at Fackelmann Brands in accordance with FSC ™ standards. The range is gradually being completed. This also applies to the packaging - this will be changed accordingly. Wherever possible, we minimize packaging and avoid unnecessary material.
TO THE RANGE
Carnauba wax
Baking molds have to withstand particularly high requirements: They have to be heat-resistant and have an excellent coating so that baked goods can easily be removed from the mold. The coating consists partly of the wax of the carnauba palm and makes up about 5% of the same - the currently possible maximum so as not to impair the functions of the baking pan. The wax comes from palm trees in Fairtrade-certified plantations and has excellent non-stick properties, is vegan, is extracted in a resource-saving manner and enables the production of our first climate-neutral baking molds.
Available from autumn 2021
Cocoa shell
The shell of the cocoa bean is the natural "packaging" of the valuable kernel, which is processed in many individual steps into cocoa mass and then into fine chocolate as we know it. Once the shell is broken, it is considered a vegetable waste product and is normally disposed of. An alternative that breathes new life into the cocoa shell is processing it into organic fibers as a raw material for packaging material - in our case for muffin paper liners. In the manufacture of paper, some of the cellulose is replaced by the bio-fibers. The result: a distinctive, innovative and sustainable type of packaging that transforms the natural shell of the cocoa bean into a timeless and individually patterned shape for your favorite baking creations.
TO THE RANGE
INTELLIGENT PACKAGING MANAGEMENT
It is very important to us to get by with as little packaging as possible. That is why we are constantly working on optimizing our packaging solutions. For packaging made of paper and cardboard, we use raw materials from sustainable forestry that are certified by FSC ™ or PEFC or made from recycled material (e.g. Blue Angel). All packaging will gradually be converted in this way by 2025.
SOCIAL ENGAGEMENT & PARTNERSHIPS
We are also active outside of our organization: with the Fackelmann Children's Fund, we take our responsibility as a family company into account. We support regional and international projects that primarily benefit needy children and families.